Our Mission
The Pa'lante Restorative Justice Program works to build youth power, center student voice, and organize for school discipline and educational policies and practices that actively dismantle the school to prison pipeline in Holyoke and beyond.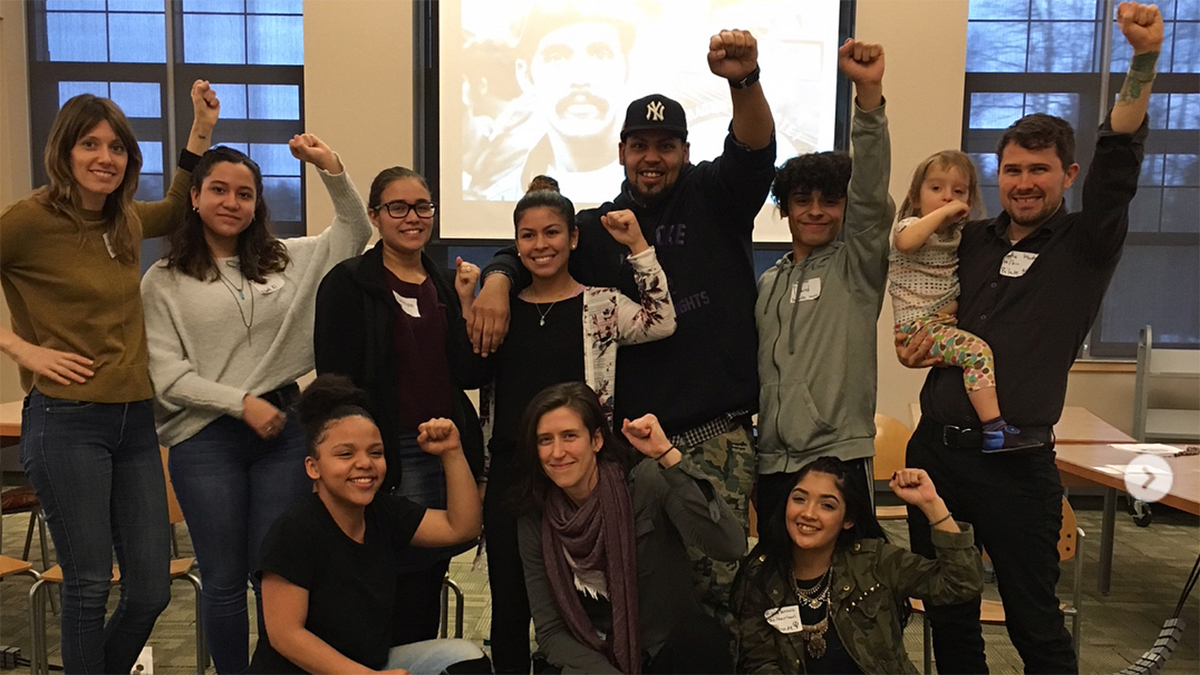 What we do
Pa'lante's work centers around two core practices: indigenous circle practice and youth participatory action research.
Student leaders use circle practice to support our school community to address harm, grieve, solve problems, heal from trauma and oppression, as well as to celebrate victories. We have been very fortunate to develop our approach under the ongoing mentorship of Dr. Sayra Owens Pinto, who grounds her model in indigenous governance practices, the fields of organizational development, leadership development, Critical Race Theory, indigenous theories, Black Feminist Thought, and popular education.
In addition to hosting circles, Pa'lante youth design a Youth Participatory Action Research (YPAR) project each year, where they engage in critical action research to address a problem that is relevant to their lived experience at Holyoke High School. Most recently, students used their research as the foundation of a campaign to transform Holyoke High School's In-House Suspension Room into a Student Support Room, which is staffed by Peer Leaders, therapist interns, and a full-time coordinator.
The name Pa'lante is a reference to the Young Lords, who were a group of young people of color, primarily Puerto Ricans, who worked to address racism, police injustice, poor health care, and tenants' rights in in the sixties and seventies. Their legacy reminds us that anything is possible when young people of color organize for change. "Pa'lante", which means "moving forward!", was the name of Young Lords' newspaper.
Finally, Pa'lante gets involved in all kinds of other work relevant to our mission, including hosting a monthly social justice-themed Dinner & Movie Night open to the community and collaborating with UMass and Mt. Holyoke to offer a biweekly college access program open to all Holyoke High students.

History
From 2013-2015, students, teachers, and community members organized to begin to change the policies and practices at the root of Holyoke Public Schools' legacy of school pushout. Pa'lante launched in 2015 with one full time staff member and 15 student leaders, as a collaboration through the River Valley Counseling Center Teen Clinic and Holyoke High School. Pa'lante is now housed entirely within and through the school, has two full-time and three part-time staff members and is led by 40 student leaders.
Funders
We are grateful to our generous funders!
Nellie Mae Education Foundation, NoVo Foundation, MA Department of Public Health, Shannon Community Safety Initiative, Resource Generation, Holyoke Public Schools, City of Holyoke Mayor's Office, Peace Development Fund, Haymarket People's Fund, Markham Nathan Fund for Social Justice, UMass Amherst History Department and many individual donors! The Transformative Culture Project serves as our fiscal sponsor.